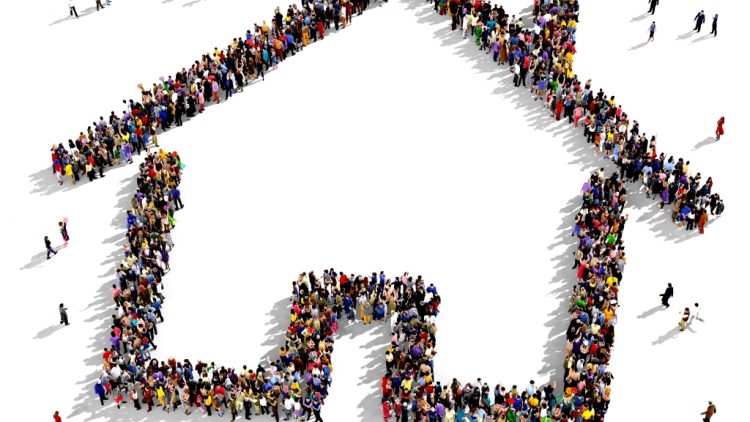 Ask a rich person how they got rich, and there's a good chance they'll say they invested in real estate. In fact, real estate is generally accepted as one of the most solid ways to build wealth. That's why there's no shortage of people who long to buy a home and watch its value rise over time. There are the landlords willing to manage years of tenants in exchange for an eventual return on their purchase. And then there are the folks you see on TV who buy houses to flip seeking a seemingly near-instant profit.
Even if buying a home doesn't match up with your personal vision of the American Dream, you may still want to consider investing in real estate. And buying a piece of property outright is no longer your only option for investing. Real estate crowdfunding is yet another way you can diversify your investment portfolio, often for less of an up-front expenditure.
But with a boom in startups and platforms aiming to make real estate crowdfunding easy, it can be hard to tell if this method of investing is right for your portfolio. Here's what you need to know before you get started.
What is real estate crowdfunding?
As the name implies, real estate crowdfunding allows you to contribute your money toward a larger real estate investment. "You get access to deals that wouldn't have been available to individual investors," said Jonathan Wasserstrum, founder and CEO of commercial real estate technology company SquareFoot. "It's not only about access, but also the size of some of these transactions. The average consumer can't buy a $10 million building, however they can take on a $100 share of it."
How that contribution is used depends on the platform through which you choose to make your investment. Some real estate crowdfunding platforms buy and manage properties, while some take the pooled money and lend it to other real estate investors.
Likewise, the type of return you see on your investment depends on the platform you choose. "Some crowdfunding websites have pooled funds that offer the same returns to all investors," Brian Davis, director of education at property management app SparkRental explained. "Fundrise operates this way, with a few different fund options to choose from. Other crowdfunding sites allow you to pick and choose the individual projects you want to invest in. GroundFloor is an example." (Davis personally uses both Fundrise and GroundFloor.)
Why it's popular right now
Fundrise. GroundFloor. PeerStreet. Realty Mogul. CrowdStreet. RealtyShares. RealCrowd. EquityMultiple. I could go on! There are plenty of options for people interested in real estate crowdfunding, and they all have very startup-y names.
Real estate crowdfunding has exploded in recent years due to the passage of the JOBS (Jumpstart Our Business Startups) Act of 2012. That legislation made updates to the way investment capital can be raised, and made it OK to advertise investing opportunities. The JOBS Act also loosened restrictions around who has to register the securities they're selling with the SEC. As Investopedia puts it, "Essentially, Title II [of the JOBS Act] gives crowdfunding firms the green light to direct-market to a large pool of potential investors via social media and the Internet."
As this method of investing evolves, you can expect to see more niche-specific options pop up. "It's becoming more sophisticated with more choices for the consumer," Wasserstrum said, citing the example of Fund That Flip, which invests in loans for house flippers. "As with a lot of things in real estate technology, we're still in the earliest innings."
How crowdfunding differs from REITs
The online crowdfunding aspect may be new, but investing your money toward larger real estate projects is far from novel. Real Estate Investment Trusts, or REITs, have been around since the 1960s. REITs allow investors to buy publicly traded real estate projects through a standard brokerage account, 401(K) or IRA. Each REIT focuses on a specific kind of real estate, from apartment complexes to storage units to hospitals or malls, Business Insider notes.
"They've been around for a long time, and are just as liquid as stocks or funds," Davis said. "Although the problem is that they often move alongside the stock market since they're traded on the same exchanges, which partially defeats the purpose of diversification."
What it costs to make money with real estate investing
There are, as always, potential costs to consider. Crowdfunding platform fees vary, typically featuring lower fees in exchange for higher investments. For example, CrowdStreet requires a minimum investment of $10,000 for a minimum 36 months, but doesn't charge account fees. Fundrise lets you get started with $500, but charges a fee of 1% per year, which is relatively steep compared to fees for roboadvisors, which tend to be around 0.25% to 0.60%. You can expect fees in the 1% range for an actively managed portfolio.
Be patient, because you won't get rich quick
Traditional REITs are usually the long-term real-estate investment that performs best, with an average annual return of more than 9%. Meanwhile, Joseph Hogue of My Stock Market Basics examined average returns on real estate crowdfunding platforms: Open investments had a return of around 14.7%, with completed deals averaging 14.6%. The returns can be attractive, but consider the short, post-recession life span of real estate crowdfunding startups in comparison to traditional REITs and other investing vehicles. (Once they've had a longer shelf life on the. market, the returns may not be so consistently high.) The diversification potential and ease of crowdfunding are the best benefits of this type of investing, according to Hogue.
If you're just getting started with real estate crowdfunding, you should be comfortable having your money tied up for a while. "Most investments are designed to last at least a year, sometimes five years or longer," Davis said. "In some cases you can sell your investment [sooner], but usually with a penalty and not quickly."
And while real estate crowdfunding is as passive as it gets, you don't have as much control over how much money you can make on your investment, like you would if you bought a rental property and managed it.
If you're not investing at all yet —meaning you don't have a 401(K), Roth IRA, or brokerage account—you're probably not ready for real estate investing. It's best to start with the basics, and save most of your investing goals for after you've tackled debt and built an emergency fund. But if you're comfortable with your current portfolio and want to mix things up, real estate crowdfunding can help you diversify.
"Start small at first, to build comfort," Davis advised. "Nothing says you have to invest thousands right away."
Source: Lifehacker