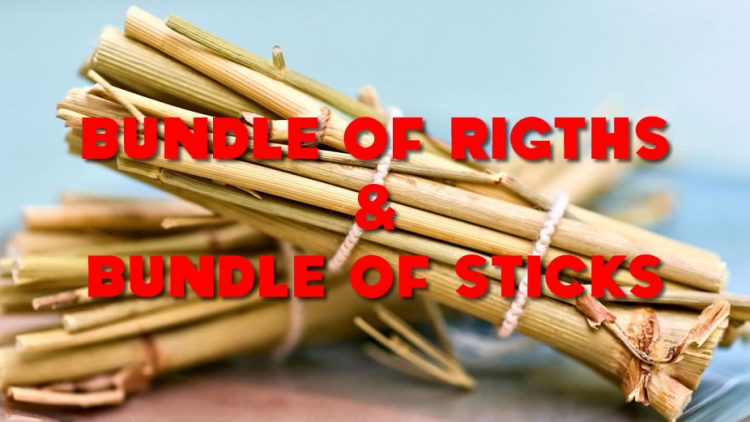 What is "real estate," really? Most people might say it's the land and/or structures appurtenant to it. I agree with that (I should; I came up with it) but I think owners should also consider what is referred to as the "bundle of rights" theory.
This is where all the rubber hits the road: People work hard on acquiring properties, improving them, flipping them, leasing them out, etc. The type of property doesn't matter; the bundle of rights is your real estate. Anyone who owns a fee or has a long- or short-term lease has a bundle of rights that can be conveyed. I want to discuss the concept of fee ownership that anyone owning real estate — from land to skyscrapers — has.
Let's think about the Egyptian pyramids. What the pharaohs had was really just a super-sized bundle of rights. The pharaohs could build on and utilize the land they owned in any fashion they wished — no restraint on their bundle of rights. In modern times, there are restraints on ownership that in most cases are known in advance and made easily available to the public. (There are also cases where the rights of an owner may change due to nothing that owner could lay a magnifying glass to, such as rent control.) For the most part, you can find out information on any restraint to ownership prior to purchase. At times, there will be a groundswell against your bundle of sticks. At others, it's an outright attempt at a taking. Ancient Egyptians didn't have to worry about such matters, but if you're a real estate owner today, you should.
An easy way to look at this theory is to imagine a bundle of sticks and string. This bundle has a finite total number of sticks. This bundle represents your total fee simple ownership — the most complete form of property ownership there is — of the sticks. The string holding them together is your deed.
Of the utmost importance is that you try to stay on top of matters as they relate to your sticks. A new bond measure? Check your sticks. Voter indebtedness? Better check on how that affects your sticks. Property owners must be aware of and advocate for their ownership positions. What happens behind closed doors can affect your rights and property value. Be mindful.
The point is those sticks represent almost the entirety of your ownership rights.
So, what should you do with a bunch of sticks and string? Nothing at all, if that's what you want. (Many would agree that doing nothing is a right; however, some cities are now introducing taxes to fee owners who choose to not rent or otherwise convey their property with a vacancy tax.)
What you should do is look at why you bought the property. Did it meet your expectations? If so, congratulations. If not, let's look at your bundle. All of your sticks are there, and the string too. I ask, why do you still have all of your sticks? We have to talk about conveyances. In simple terms, a conveyance is giving to another a right to use something you possess exclusively.
If you purchased your property to produce a gain solely based on the ownership, then you need to get that going. So, if you own your home and rent it out, you have made a conveyance. You still own the property, but you have conveyed your exclusive use for something of value to you. If you look at any interaction where you use real estate — for instance, a parking lot — the owner can put a chain up and leave it vacant forever as long as the owner pays the taxes (and a few other things). Whether or not that would be a smart choice depends on the person. For most, it would not be. So, as an owner, you convey. Charging for parking at $25 per hour is a type of conveyance.
Each of your sticks represents a divisible share of your fee ownership. The sticks are the real estate. Convey some of them. Build a building if it's within your rights (check the zoning and planning as it relates) to do so. Do you have the money to erect a building, build a house or paint lines on the ground? Convey some of those rights, and get some cash — that's your right also.
When you exchange the usage of your property for value for a defined period, you have made a conveyance. When you lease your property, you give the tenant the right to use a portion of your sticks for a (hopefully defined) period of time in exchange for value. How many sticks you convey is up to you and what the market will accept. Any time you don't have the absolute right of possession is a type of conveyance. So, if you look at the real estate this way, you will have to look at the implications of your actions on your bundle of rights.
The key thing is you must not only care for the upkeep and income stability of the property, but also the intangibles as they affect your ownership. It's not a bad thing at all. It's just a thing that you must do to protect the total value. Remember, a few sticks can start a fire. Don't get burned by your own sticks, and don't let lackadaisical thinking take your bundle of rights in a direction you never intended.
Source: Forbes